Today's Saturday Prompt is brought to you by One Step At A Time; Leap When You Can.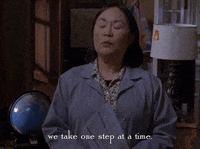 My mum's a positive stuck record on taking one step at a time. It's rubbed off on me in a major way during the last years.
Before I was very much – everything must be done now. Bouncing off the walls, needing to speed through life in general. I thought this was the best way to get everything I wanted and forge ahead.
I busted quite a few proverbial ribs jumping into things too quickly. Not waiting to consider important aspects properly often resulted in hard lessons being learnt both professionally and personally.
I'm not regretful anymore, cause plummeting down life's ravines led me here, but I'd love you to avoid similar messes :).
That's where taking a step at a time comes in. This doesn't mean you have to slow to a crawl or you won't see progress. It's about recognising every day, moment, can bring the unexpected. When you can take a leap – do so. Sprint ahead even. When necessary, take your time, consider the way forward at least a little. Let your instincts help you out too, don't ignore them.
Over time it'll become clearer when you need to take one step at a time, develop, focus, and when you can leap at an opportunity without breaking a sweat.
---
The next Pages Unforgotten post is on Aug 12. Until then try more posts on my Blog.
---
This is my fourth year as an Ink & Insights' judge and throughout its duration, I'll share a connected post once a month. Learn about the Ink and Insights' writing competition
For more info, questions, or comments, share below or contact me :).